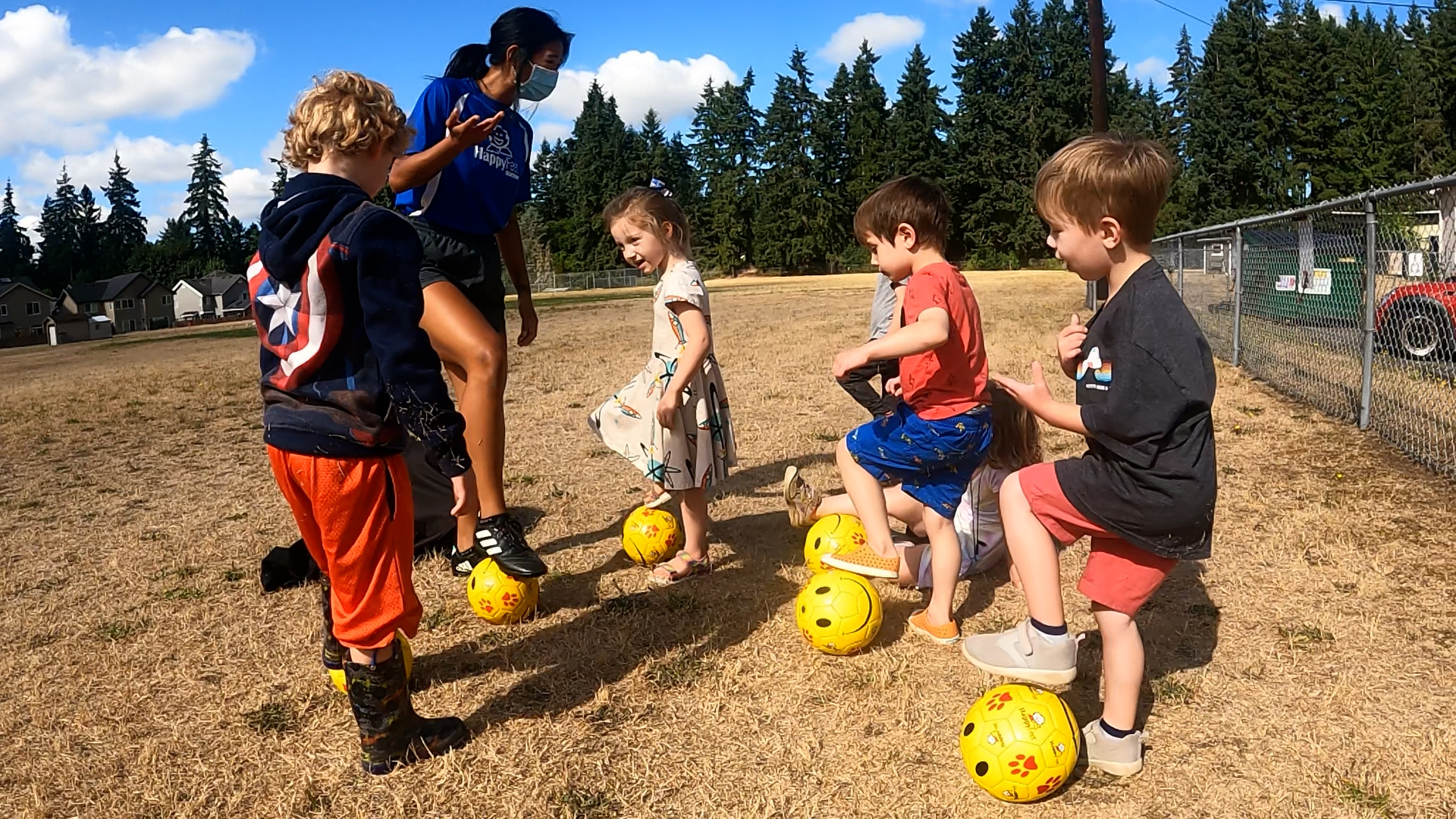 According to Washington State's Early Learning and Development Guidelines, there are many different ways your child develops their gross motor skills, social and language skills, problem solving skills, creative thinking and imagination, and their self-confidence. While preschools provide opportunities for your child to explore and work on their early childhood development, HappyFeet provides additional opportunities for your child to grow and learn too! 
Learn about the many different skills that your child is learning and how they practice them in HappyFeet below!
GROSS MOTOR SKILLS
What do they learn?
After learning how to walk and run, children begin learning how to change speed and direction, balance on one leg, jump and squat, and then begin moving with purpose and kicking with good aim.
What does this look like in HappyFeet?
We work on these skills throughout the entire session. During warmups, players run in specific directions, and jump over and manipulate cones using one foot. During games and adventures, players practice kicking the ball, balancing on one foot to tap the ball with the other foot, and practice more complicated skills as they get older.
SOCIAL SKILLS
What do they learn?
At an early age, children begin to ask and answer questions and learn how to take turns in conversation. As they get older, they begin to learn how to connect emotions with facial expressions and understand others' feelings.
What does this look like in HappyFeet?
We provide opportunities for players to practice these skills by asking questions like what their favorite color is and help them take turns sharing their answers. We practice connecting emotions with facial expressions during our younger classes by asking the players if Bob is happy or sad by looking at his smile, and expand on this in our older classes by asking what feelings our characters are experiencing in our adventures. For example, we may find a sad dragon, so we may ask the HappyFeeters questions such as, "How do you know the dragon is sad?" or "Why might the dragon be sad?"
LANGUAGE SKILLS
What do they learn?
While expanding their grammar and vocabulary, children are learning to define words and use their own experiences to make connections and describe what they like or are interested in.
What does this look like in HappyFeet?
We practice these skills by introducing new words, having players repeat the word and then explain what it means to incorporate it into the session, such as new soccer moves. During HappyFeet class, coaches provide opportunities for players to use their language skills to influence the adventures. Players can then use their own personal experiences to answer questions such as, "What animals do you see at the zoo?" (recalling on personal experience) or "What do dragons love?" (recalling popular children's books) or "How do we help a pig stuck in mud?" (recalling on in class learning).
PROBLEM SOLVING
What do they learn?
Children begin by recognizing they need help and asking a coach for assistance, then exploring and using trial and error to solve problems and finally talking out different ways to solve a problem with others in the class. 
What does this look like in HappyFeet?
In HappyFeet we practice these skills by letting the players know that we are there to help them and ensuring we are nearby to help players with new skills when they need it. Opportunities to talk about ways to solve a problem are often presented during adventures, with coaches giving the players an opportunity to come up with solutions through trial and error or by facilitating group conversations around the problem at hand. Examples of this could include, asking younger groups how we get to the beach or asking older groups how we save Olaf from the ice monster. 
EARLY LEARNING
What do they learn?
During their preschool years, children are actively exploring and learning through their environment, through play. As they get older, they continue to learn through repetitive actions, recalling personal experiences and through recognition of people in their community by their jobs such as firefighters, teachers, and cashiers.
What does this look like in HappyFeet?
Each class gives players the opportunity to learn by exploring new environments through imagination, while using repetitive actions to help learn new soccer moves, gross motor skills, math, and language skills. For example, during an adventure HappyFeeters may imagine that they are building a tree house and will use the Chop (soccer move) 5 times to cut down the wood or by helping protect a tree house that is on fire by pretending to be a fireman and using 10 tip toes to put out the fire. 
CREATIVE THINKING & IMAGINATION
What do they learn?
Children begin by thinking of new ways to accomplish something, then begin to express feelings in role playing situations, to finally beginning to tell short-make believe stories. 
What does this look like in HappyFeet?
Each HappyFeet class allows players multiple opportunities to expand their creative thinking and imagination through our adventures and games. Each week a player may pretend to be different characters, such as a knight or princess unicorn, and then express feelings as their character embarks on an adventure. Throughout these adventures, players use creative thinking to incorporate new soccer moves or different ideas to make each adventure unique to them.
SELF CONFIDENCE
What do they learn?
Self confidence is built through personal experiences of trying new things and taking pride in completed tasks or projects. The self confidence children develop during their preschool years will carry them through their elementary education and help them face these new challenges with a "can do" attitude. 
What does this look like in HappyFeet?
Our HappyFeeters gain self confidence during each class by using their "Brave Muscles'' to try new soccer moves and accomplish new tasks during our adventures. Each week our players learn something or overcome an obstacle that they never thought was possible! This gives each of them a positive experience to recall upon as they continue to develop and try new things both inside and outside of the classroom.